Good morning! Monthly stats, bohemian vibes in Franklin, and a cricket match are the highlights for this month! As always, let's do the numbers first.
Davidson County
The number of home sales in Nashville and Davidson County fell for the first time in 2017, while average sales prices continue to climb.
The total number of units sold in April were down 9% and average home sales prices were up 7% from last year.
There were 1,437 home sales recorded for the month averaging $303,923 compared to 1,574 sales recorded in April 2016 averaging $282,891.
Median home sale prices were up 11% from last year to $249,900 versus $225,000 last April.
Through the first four months of 2017 the number of home sales recorded are up 3% and the average home sales price is up 9% from the same period of 2016.
Antioch (37013) had the most home sales for the month with 170 recorded averaging $190,549.
Belle Meade/West End (37205) recorded the highest average sales price for the month of $637,300 across 55 sales.
Williamson County
April home sales were down slightly, by 1%, with 545 sales recorded for the month compared to 551 recorded in April 2016.
The average home sales price was up 1% to $461,244. The median sales price was $425,000, up 5% from last year.
Franklin West (37064) had the most home sales for the month with 158 sales recorded averaging $451,565. (SIDE NOTE: The extension of Mack Hatcher is expected to drive up the prices in Franklin West. More HERE.)
Brentwood (37027) had the highest average sales price of $727,429 across 69 sales.
*  *  *  *  *  *  *  *  *  *
How do you get that urban bohemian vibe, and still have a Franklin Special School District education for the kids? You come see the new listing at 480 Forrest Park Circle in Franklin! Priced under $500k at $497,900, this home has room to spare at 3447 sf, with 4 bedrooms and 2 and a half baths. A huge bonus room upstairs, and a private office/library downstairs keep work and play separated. Open House date TBD in the next couple of weeks. More photos HERE.
*  *  *  *  *  *  *  *  *  *
If you are looking for something different to do this Mother's Day, I have got something fun for you!
For the past 20 years, there has been a reunion of sorts on a makeshift cricket oval at Pontotoc Farm in Williamson County. Players make the trek from England to play their Nashville friends (mostly expats) in an annual match. My husband Andy has dusted off his cricket whites, and played the past 2 years, and we extend an invitation to all to come out for an hour, or the whole afternoon to see the match. No need to understand the rules, just enjoy the atmosphere!
I provide the cucumber sandwiches for the players tea, and I always make a few extra to share with those who drop in, so come and get your British culture for the week in a pastoral setting. Details are below – hope to see you there!
Recipe for the classic cucumber sandwich – nothing more refreshing on a warm day!
Cucumber Sandwiches
1 English cucumber, peeled and thinly sliced
2 Tbs (30 ml) malt or cider vinegar
1/2 tsp (2 ml) salt
Thinly sliced bread (Pepperidge Farm Very Thin)
Butter (I like Kerrygold)
Toss the sliced cucumber with the vinegar and salt, and let sit in a colander at room temperature for 30 minutes. For each sandwich, spread the butter sparingly on both sides of two pieces of bread. Pat the cucumber slices dry with paper towels and place a layer or two on one of the slices of bread. Top with the other slice of bread and trim off the crusts. Cut diagonally into four triangles.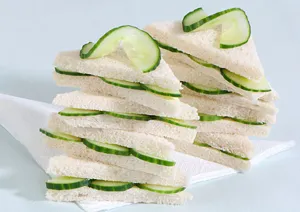 I keep them chilled and wrapped in a tray under plastic until ready to serve.
Enjoy!
Until next time,
Collyn